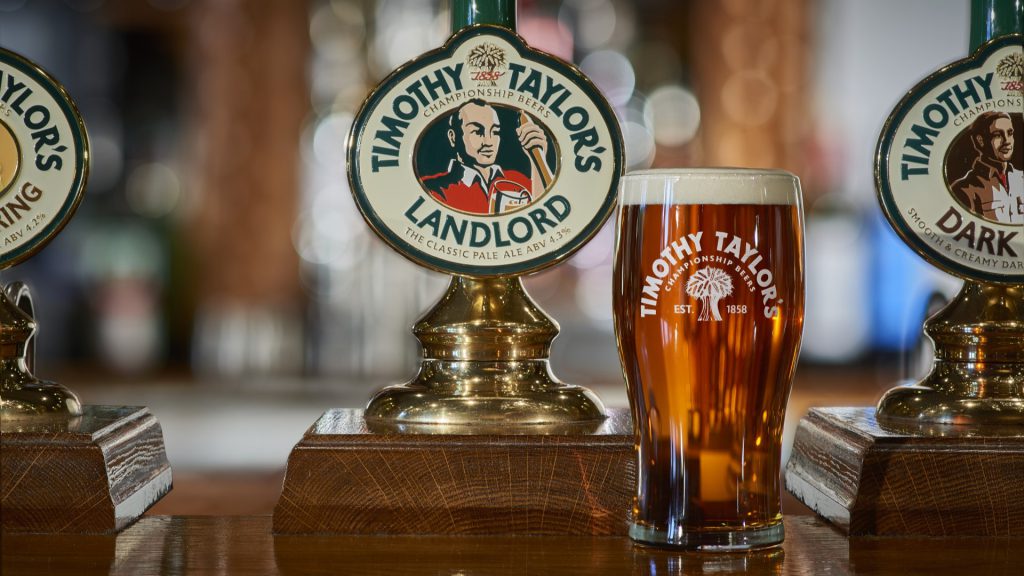 Quality rooms, quality food, quality service and most of all, quality beer. That's why when it comes to cask ales, there is one that you are always guaranteed to find on our bar, Timothy Taylor's Landlord. Winner of both CAMRA's Champion Beer of Britain and the Brewing Industry Challenge Cup a record four times – it's pedigree in the British brewing game is well-established. We have been continually selling this fabulous ale for over 25 years and it has never once been off our bar.
Timothy Taylor's share our belief in quality and the principle of not accepting second best was laid down for them from day one in 1858 when they were founded and remains with them to the present day. This means that the very finest ingredients are used to brew the best possible beers. Including Golden Promise barley, a barley normally reserved for the production of malt whiskies, premium whole-leaf hops, their unique Taylor's Taste yeast which is over 2,000 generations old and their pure Pennine spring water which comes up through a natural artesian well called the Knowle Spring; which the brewery sits on.
Their mission to take extra time, care and pride in traditional, hands-on brewing, making no compromise when it comes to ingredients is exactly the same here at The Staff of Life in Ticknall. It's these shared beliefs and standards that have meant that our relationship with Timothy Taylor's has lasted this long and will do for many more years to come. And why we are proud to be a member of their exclusive Champion Club – an award only given to pubs who have a dedication to excellent cellarmanship and can always make sure their pint of Landlord is absolutely perfect.
We've even gone as far as sending our own management team up to their brewery in Keighley, West Yorkshire, to complete cellar training led by the very people who brew the beer, so we definitely know what we're doing!
So if you'd like to come and sample our Landlord, or any of the amazing cask ales we have on offer – come and visit for a truly Champion experience.
https://www.timothytaylor.co.uk/